Dear readers,




 




As every year, we will naturally be taking part in the global flagship trade show for event technology – Prolight + Sound and Musikmesse in Frankfurt. You can find our team with an array of new products at the usual place in Hall 4.1E08.




 




Our completely redesigned DX10 DI Box will make its German debut in Frankfurt.




 




The GREYHOUND Series – our cable range for ambitious entry-level customers – will also be showcased after its facelift.




 




Our Modular Interface System (MIS) is well established in the event industry. We are continuously working on new features and improvements. Wait and see!




 




The advanced features of the TrussLink ST1600FME Stage Box not only look pretty good on stage; the stage box is also ideal for mounting on lofty rigs.




 




Our M3 Microphone Cable range is designed for the unique challenges of outdoor operation, and lives up to its promise of heavy duty performance!




 




And our popular StraightLink Stage Boxes have had a new addition – the 16-returns SLW016XE.



| | | |
| --- | --- | --- |
| | | |
| | The Signal Masters World Tour | |
| | | |
| | | |
| --- | --- | --- |
| | KLOTZ AIS welcomes you at the Messe Frankfurt from 11 - 14. 3. 2018 | |

We will naturally be attending Prolight + Sound / Musikmesse in Frankfurt, as every year for the past 39 years – regardless of whatever trade show concept is currently being trialled.




 


You can find our team with an array of new products at the usual place in Hall 4.1E08, directly next to the main entrance to the hall.


 




Come and see us, take a look at our display of over 300 new items and tried-and-tested products, or just drop by for some gear talk.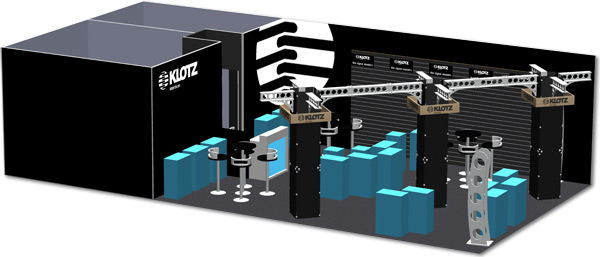 We'll be showing off our brand-new DX10 passive DI box as well as our GREYHOUND range of cables, which has had a facelift. Other new products in the ProAVM sector include a special L-Acoustics cable, a 16-channel splitter in the MIS Series, and a 5x DATALink CAT Stage Box.




 


When planning your visit, please note our stand attendance times from Wednesday 11 April to Saturday 14 April inclusive. The hall is not yet open on Tuesday 10 April!


 




Come and visit us – we look forward to seeing you!



| | | |
| --- | --- | --- |
| | The successor to our classic D10KL, the new DX10 offers all the best features you could wish for from such a vital element in live and studio performance. We've given the ultra-rugged, ready-for-the-road housing a stylish makeover and used only the best-quality components. | |
The best thing about the DX10 is also the most important part of a DI box: the transformer. This transformer is an all-new in-house development that brings together all our expertise and experience. It is made from mu-metal, a soft magnetic alloy with outstanding magnetic permeability. In practice, that means incredible sound quality and clean sound – no more fuzz or distortion!




 




KLOTZ DX10 features clear-cut design and easy handling. No bells and whistles – it has exactly the functions that are needed and is made from top-quality components.




| | | |
| --- | --- | --- |
| | GREYHOUND microphone cable | |

Easy to work with, powerful sound! That's the GREYHOUND Microphone Cable Series. GREYHOUND products were an instant success on their initial launch in 2010. Now we've revised this entry-level range, and ambitious musicians with an eye to their budgets can look forward to further improvements!




 




We've designed a new high-quality metal XLR connector exclusively for the Greyhound Series, with a shorter sleeve and enhanced grip. Available in a range of lengths from 0.5m to 10m and exclusively in black.




 




Designed and developed in Germany, and manufactured in PRC by KLOTZ AIS.




And all this at an unbeatable price! Getting musicians off to a great start!




 




GREYHOUND – the cable you can trust!




| | | |
| --- | --- | --- |
| | Outdoor microphone cable M3 | |

| | | |
| --- | --- | --- |
| | Live performances demand a lot from technical equipment. And live events raise the bar several notches to a level where only the most rugged material can hold its own. This is exactly what we had in mind when we designed our M3 microphone cable. The cable ends are made up with extra-rugged XLR connectors from Neutrik's X-HD range. These connectors are of solid metal and designed for heavy-duty use; they are ideal for touring, and even comply with IP65 water ingress protection rating when connected. | |
Our MY206 cable with PUR outer jacket is ideal for outdoor use and stands up to the highest mechanical strain. The PUR jacket offers exceptional characteristics that cope with the harshest conditions; with exceptional tensile strength, it's abrasion-proof, UV-resistant and weatherproof as well as being resistant to oils and grease.




 




Capacitance – that essential criterion that's so important for sound quality – is a pleasingly low 60 pF/m.




| | | |
| --- | --- | --- |
| | StraightLink stagebox 16 channels | |

| | | |
| --- | --- | --- |
| | These popular stage boxes feature compact dimensions and premium details. They are available in configurations that reflect common practice and are ideal as sub-stage boxes, as sub-distribution panels for drumkits, or even as full-scale multicore systems. Every combination from 2 to 16 inputs and 2 to 4 outputs is possible, and multicore lengths from 5 to 30 m extend into every corner of small and medium-sized stages. | |
SLW Stage Boxes naturally have the KLOTZ hallmark features you would expect: our own XLR boards developed in-house, plus neatly ordered cable runs with matching strain relief elements which ensure that the hand-soldered contacts are never exposed to tensile strain – significantly extending the life of the stage box. The rugged aluminium housing has non-slip rubber feet and laser-engraved labelling. 12-channel models and upwards have a metal cable grip with suspension loop for strain relief and anti-kink protection.




 




And by the way, the budget-friendly StraightLinks are entirely Made in Germany!




| | | |
| --- | --- | --- |
| | TrussLink rig&floor box 16 channels | |

TrussLink Stage Boxes are dependable companions where professionalism is required. Their paired parallel configurations of XLR connectors (XLR 3p. F/M) can be used as both inputs and outputs. This maximizes their flexibility in professional stage work and speeds up setup and take-down times.




 




The rugged aluminium housing has non-slip rubber feet and laser-engraved labelling. The RMP connectors feature the F/M logic that we have used throughout the product line. The ideal choice for transmitting signals from the stage to the FOH or submixer and back. With four suspension loops on the housing and an M10 thread in the base for a Manfrotto Superclamp, the Return Stage Boxes are designed for use with stage trusses.



They're also digital-ready, with internal cabling that's tailored to characteristic impedance of 110 ohms – vital for use as DMX or AES/EBU box. TrussLinks are great for a whole range of roles, from small sub-stage boxes to complete multicore systems.




 




The TrussLink parallel stagebox models are available in 8-channel and 12-channel models with one or two RMP connectors, and optionally with 5-pin XLR connectors for DMX applications.




| | | |
| --- | --- | --- |
| | MIS SET 19'' 16 channels 4x 1:1 split | |

Have you always found your XLR splitter had too few inputs for your purpose? Or unneeded outputs? Or simply took up too much space? Now we can offer the perfect solution! Our Modular Interface System (MIS) lets you decide exactly what your XLR splitter needs.




 




We've fitted a 16-channel splitter into only two height units and 195mm depth. Inputs/outputs are split in a ratio of 1:4; signals are unimpaired and transmitted one-to-one.



| | | |
| --- | --- | --- |
| | We supply the individual components; you put it all together – it's child's play. Want to modify the design? Couldn't be simpler! On request, we can also perform the assembly and electrical testing. | |
Managing Director:


Dieter Klotz




 


Commercial Register:


Munich District Court HRB 112612


International VAT ID:


DE811998658




 


Responsible for content (§ 55 Para. 2 RStV):


Peter Klotz (address as above)

KLOTZ AIS GmbH


Johann-Sebastian-Bach-Str. 36




85591 Vaterstetten




Tel.: +49 (0) 8106 308-0




Fax: +49 (0) 8106 308-101


Mail: info@klotz-ais. com
Web: ww w. klotz-ais. com


 




 


»

web


»

contact


»

data protection
To unsubscribe from our newsletter please click

HERE