Dear readers,




 




Our brand-new KLOTZ Fiber Optic website (w w w. klotzfiber. com) was launched in perfect time for the Frankfurt Musikmesse / Prolight + Sound. The site presents our full portfolio of optical fibre audio, video, network and lighting cables, and clearly explains the complex topic of optical fibre cabling using interactive examples.




 




Held in mid-April, Prolight + Sound was already our fourth trade show this year. In organizational terms, we were actually officially part of the Musikmesse music fair –but such details had no impact on our visitor numbers. Our best-selling and new products were as popular as ever, and our stand was always thronged with visitors.




 




Hybrid cables are in high demand in the ProAVM sector. By combining various line types into one cable, they reduce cabling work. At our customers' request, we developed the two hybrid video cables, V-2PTU and V-2RTU, with two video lines and a data line or power line in a single cable.



| | | |
| --- | --- | --- |
| | Welcome to the world of fiber optics solutions: klotzfiber.com | |

Bullseye!




We launched our new KLOTZ Fiber Optic website in perfect time for the Musikmesse/PLS in Frankfurt.




 


The website showcases our popular optical fibre products even more effectively, presenting optical fibre products for the audio, video, network and lighting sectors.


 




Interactive examples explain the areas of use and the various components involved. The main technical terms from the world of FO signal transmission are summarized and explained in a special glossary.




 




All KLOTZ Fiber Optic products are clearly classified into product categories, to enable you to find the product you need as fast and efficiently as possible. Once you've located the KLOTZ components for your individual optical fibre needs, you can order them quickly and conveniently in the integrated shop.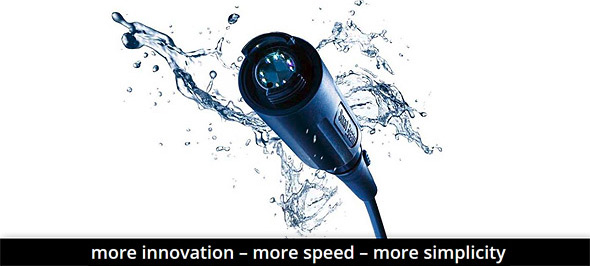 The DI44 is a DI box – and so much more besides. We've heard of bands that have used this multitalented piece of kit to link their whole stage setup to the mixer!




 




The array of features offered by this 4x DI box speak for themselves. Each DI channel has a parallel output and switchable input (XLR/jack), as well as a separate ground lift function and adjustable attenuation (0.20 and 40 dB). But the tastiest feature of the DI44 is its four directly wired channels, which can be used for, say, two mic/line connections and two returns.




 




The DI44 is simply the ideal all-round solution for small-scale bands!




| | | |
| --- | --- | --- |
| | Video hybrid cables V-2RTU and V-2PTU | |

Hybrid cables are frequently found in the ProAVM sector as they are such a useful way of reducing the amount of cables needed. Our customers contact us with a huge variety of requests for our developers –and the 2018 V-2RTU and V-2PTU are the result of just such a development process.




 




The V-2RTU combines two VD125LPS video lines and a RC6-LB1RJ RamCAT 6 line. Typical areas of use are with PTZ and dome cameras, requiring video out and return lines plus a signal conductor for remote control or POE (Power over Ethernet) power supply.



The V-2PTU is a hybrid cable combining two HD-SDI lines and a power line. It minimizes cabling work while allowing remote equipment like HD-SDI monitors to be connected quickly and easily –a particular advantage where long distances are involved. As a further benefit, the cable design eliminates interference caused by discrepancies in ground potential.




 




Both cable models offer a host of professional professioinellen features including superb shielding, low attenuation and top mechanical ruggedness.




| | | |
| --- | --- | --- |
| | FiberLink: SmartBeam D-series | |

The D Series SmartBeam Bulkhead is a built-in connector that's tailored to fit Neutrik D Series installation holes, with diagonally staggered mounting holes. Its ultra-durable design can cope with > 3000 mating cycles. The connector is also impervious to dust and dirt during outdoor use, with an IP 67 rating offering protection against dust and water ingress. It's easy to clean using water and a lint-free cloth.




 




Contactless transmission eliminates lens wear and ensures absolutely stable long-term insertion loss. The SmartBeam Bulkhead is naturally compatible with international standards and systems including Fiberfox, Stratos, Optocore, Eurolens, Optocon and FibreCast™.



| | | |
| --- | --- | --- |
| | | |
| | The Signal Masters World Tour | |
| | | |
| | | |
| --- | --- | --- |
| | Messe Frankfurt 2018 - review | |

The Frankfurt Musikmesse / PLS was our fourth trade show this year – and it was only April!




Cnce again, we looked back on a thoroughly successful four days. Although we had the same stand as we always do, this year we were actually part of the Music Fair in organizational terms. The two weekdays, when crowds are usually thinner, were amazingly busy.




 




The 350 products on display were well received by our numerous visitors – especially our brand-new products including speaker cables for L-Acoustic and d&b. We can't wait for next year to come round again. See you back in Frankfurt!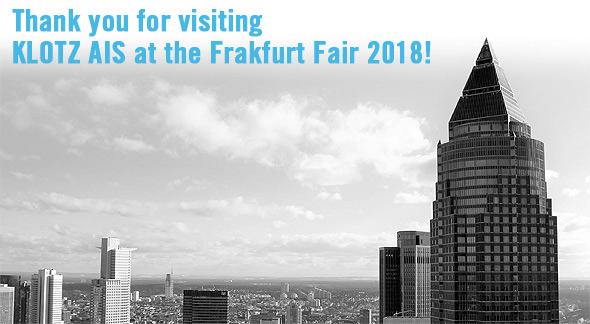 Managing Director:


Dieter Klotz




 


Commercial Register:


Munich District Court HRB 112612


International VAT ID:


DE811998658




 


Responsible for content (§ 55 Para. 2 RStV):


Peter Klotz (address as above)

KLOTZ AIS GmbH


Johann-Sebastian-Bach-Str. 36




85591 Vaterstetten




Tel.: +49 (0) 8106 308-0




Fax: +49 (0) 8106 308-101


Mail: info@klotz-ais. com
Web: ww w. klotz-ais. com


 




 


»

web


»

contact


»

data protection
To unsubscribe from our newsletter please click

HERE