Dear readers,




 




Our TOP SELLER gets even better!


The new CATLink MINI series and NEWS in the CATLink family:
The all new CATLink RACK series


 




KLOTZ CATLink products are able to transmit four analogue audio signals (mic, line), eight digital audio signals (4x AES/EBU) or four DMX signals over distances of up to 100m with complete stability via a network cable with overall shield.




 


KLOTZ offers an extensive range of professional 4-channel multicore systems - from the simple CATLink MINI 4-channel multicore adapter to the parallel-connected CATLink TRUSS stageboxes and the CATLink RACK 19" stageboxes with parallel D-Sub15 connection - the right solution for every application!


 


The KLOTZ AIS Team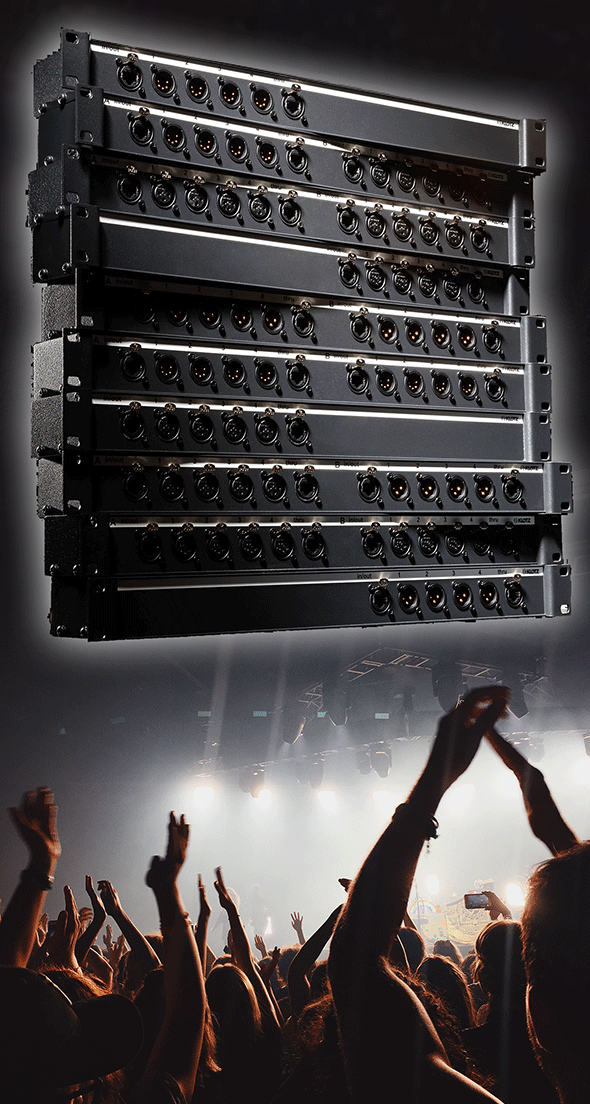 | | | |
| --- | --- | --- |
| | Proven KLOTZ CATLink technology in 19" format for RACK mounting. | |

Rugged and robust, KLOTZ CATLink RACK 19" stageboxes are always dependable companions where professionalism is required. The stageboxes are equipped with XLR 3p. sockets for audio applications (AES, Mic, Line) and XLR 5p. sockets for DMX applications.




 


On the front side, the stageboxes are optionally equipped with one or two CATLink modules with 4 channels each and two etherCON sockets (in/thru) per module.


 




On the rear side, the stageboxes offer an additional, parallel 4-channel connection per CATLink module via D-Sub 15p. socket which can be used as input or output.




 




For example, a CATLink module which is used on the front side on channels 1 and 2 for DMX via XLR 5p. socket can also be used alternatively via the rear D-Sub connector on channels 3 and 4 via XLR 3p. or TRS breakout cable for audio.




 




This guarantees maximum flexibility in professional stage operation!




| | | |
| --- | --- | --- |
| | KLOTZ CATLink TRUSS stageboxes: rugged & flexible | |

The new CATLink TRUSS stageboxes can be used as a small sub-stagebox or even as a complete multicore system. The perfect solution when signals from the stage need to be sent to the FOH or sub mixer and back again.




 


The XLR F/M sockets are connected in parallel pairs and can be used either as input or output.

| | | |
| --- | --- | --- |
| | The robust aluminium housing is equipped with non-slip rubber feet and the inscription is applied by laser engraving. Thanks to the four eyelets on the housing and the M10 thread for the use of a Manfrotto Superclamp, the CATLink TRUSS stageboxes can also be easily mounted on trusses. | |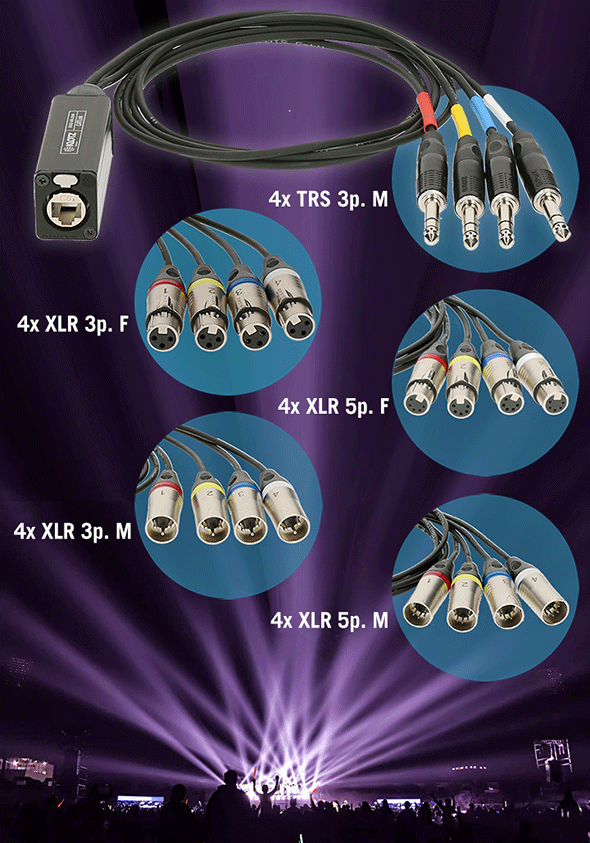 NEW CATLink MINI multicore adapter:




proven KLOTZ quality in a compact package

The new CATLink MINI 4-channel multicore adapters consist of a compact and extremely robust aluminum housing with etherCON chassis connector on one side and a 80cm cable split on the other side.




 


In contrast to the predecessor CATLink boxes, the housing could be considerably reduced in size and is now equipped with an indestructible laser engraving.


 


For the AES/Mic/Line patch cable, KLOTZ uses a new, highly flexible digital cable with a small outer diameter that was specially developed for the CATLink MINI series. Clear channel labeling, color coding and laser-engraved XLR connectors are a matter of course for KLOTZ products. This allows the individual channels to be easily and quickly distinguished from one another.


 


The CATLink MINI multicore adapters are available with high-quality KLOTZ XLR 3p., XLR 5p. and stereo jack (TRS) connectors.

| | | |
| --- | --- | --- |
| | | |
| | RamCAT transmission lengths | |
| | | |
Good news for all users of professional network equipment.




We have revised the length diagram in our online shop for all KLOTZ RamCAT articles. More clearly arranged and recognizable at a glance: which KLOTZ cable works in which length with which protocol.




 




This makes choosing the right RamCAT cable child's play.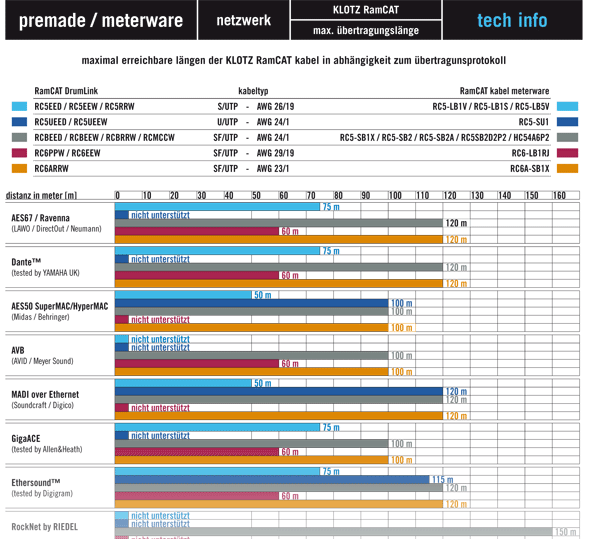 Managing Director:


Dieter Klotz




 


Commercial Register:


Munich District Court HRB 112612


International VAT ID:


DE811998658




 


Responsible for content (§ 55 Para. 2 RStV):


Peter Klotz (address as above)

KLOTZ AIS GmbH


Johann-Sebastian-Bach-Str. 36




85591 Vaterstetten




Tel.: +49 (0) 8106 308-0




Fax: +49 (0) 8106 308-101


Mail: info@klotz-ais. com
Web: ww w. klotz-ais. com


 


»

data protection
To unsubscribe from our newsletter please click

HERE