Dear readers,




 




The anniversary year of 2019 is drawing to a close at KLOTZ and it's time for us to thank all our customers, friends and associates for placing their trust in us and our products. We're proud and honoured to look back on the many loyal customers that have become our friends over the years.




Thank you!




 




This month's KLOTZ Newsletter has a report about an incredibly exciting project. We had the enormous privilege of supplying new analogue and digital cables to the Théatre du Châtelet in Paris during extensive renovation works there. You can read all the facts and figures about this highly prestigious project in our report.




 




And don't forget to check out the latest product updates from KLOTZ.




All the network products in our online shop now have a new, clear and informative chart of the lengths required for specific transmission protocols. Check it out for yourselves – you'll see it's never been easier to find the ideal length of KLOTZ network cable for your specific purpose!




 




We've also got an overview of upcoming trade shows and exhibitions for 2020. Visit us at Hamburg Open or the ISE in Amsterdam. As always, our team will be delighted to take the time to advise you personally.




 




We hope you enjoy reading this Newsletter and wish you an exciting and stress-free finish to the year, restful and relaxing holidays and a smooth start to the New Year.




 


Please note our company holidays:
We are closed from the 23rd of December to the 6th of January.


 


The KLOTZ Team

| | | |
| --- | --- | --- |
| | KLOTZ Kabel im Théatre du Châtelet, Paris | |

The Théatre du Châtelet, located in the first arrondissement of Paris, was opened by Empress Eugénie on 19 April 1862. Audiences are enchanted by its stunning architecture, superb acoustics and capacity, with seating for over 2500. The Châtelet is one of the French capital's most popular and best-loved venues for theatre, operetta and ballet. It recently underwent extensive restoration lasting two-and-a-half years at a cost of almost 32 billion euros, which was funded by the city of Paris. Nothing whatsoever of the architecture was changed; the entire focus was on technical renovations.




 




The majority of the works were performed by a French installation company as project lead, working in close collaboration with cable manufacturer KLOTZ AIS. Thanks to the expertise of KLOTZ AIS in selecting the most efficient cable products available, the project was completed smoothly and on schedule. After full technical renovation, the theatre reopened on 13 September 2019´, eagerly awaited by thousands of people.



| | | |
| --- | --- | --- |
| | Technical renovations focused on full-scale analogue and digital infrastructure cabling, including HD video, control and data lines. Sound cabling was primarily carried out using KLOTZ LSC840XYS speaker multicores, with core cross-section of 4.0 mm² and ultra-high flexibility and fatigue resistance. KLOTZ SCH2025/4025 Multicore with 2.5 mm² cross-section was installed for signal distribution to the individual speakers. In addition to a variety of KLOTZ termination panels, rugged KLOTZ stage boxes from the TrussLink and StraightLink series are used for stage and backstage sound. The KLOTZ DC422CY data cable delivers RS232/422 control data, while network data are transmitted via resilient KLOTZ RamCAT cables. Châtelet chose KLOTZ OmniFIX OX22AH AES/EBU multicore for its digital operations, both as bulk cable and made up with RMP connectors as AES/EBU fanout and connection cables. During the modernization works, the old video cabling was also completely replaced with KLOTZ VD3062SH and VD5062SH video multicores. | |
| | | |
| --- | --- | --- |
| | Of course, optical fibre cables and termination panels are also part of the equipment at Théatre du Châtelet. Here, KLOTZ SmartBeam cables and FiberLink bulkhead adapters were easily able to satisfy the client's extremely discerning requirements. KLOTZ SmartBeam lens technology with ultra-low attenuation ensures smooth, stable and stress-free operation of all optical fibre peripherals at the venue. | |
Here is good news for all users of professional network technology.




 




We have revised the length diagram in the online shop for all KLOTZ RamCAT products. A clearer layout and easy to see at a glance: which KLOTZ cable or cable drum works best in a certain length at a certain protocol.




 




This makes choosing the right RamCAT cable child's play.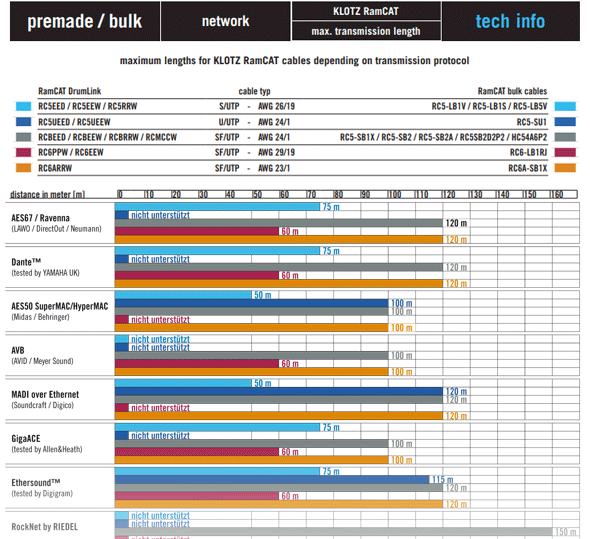 | | | |
| --- | --- | --- |
| | KLOTZ RamCAT network solutions | |

| | | |
| --- | --- | --- |
| | Discover premade network systems or bulk cables in our Online Shop: | |
CAT5 & CAT6A bulk cables for installation or mobile use




 




 




» go to shop




 




 




shielded RamCAT network cable drum system with etherCON connectors




 




» go to shop




 




 




highly flexible RamCAT network cable on drum for use on the road




 




» go to shop




 




 




The cables in our TITANIUM Series are reference-class products in their product segment. For ten years they've been well established on the market and appreciated by music specialists everywhere. Now the range is expanding!




 




Sound connoisseurs that seek high-end sound but also appreciate elegant looks will love the latest TITANIUM, a stylish model with laser-engraved silk-finish walnut wood sleeves and gold contacts.



The cable is manufactured completely by hand in Germany; every individual cable undergoes extensive and strict quality control before it leaves the factory. The result is the ultimate pro level cable – and we're so convinced that we're offering a lifetime warranty!




 




TITANIUM cables are beloved of musicians, sound engineers and producers alike; critical issues like subsonic noise, motion noise, static and interference are reduced to negligible levels. Their revolutionary patented cable design hones their acoustic and mechanical properties to levels never before achieved. TITANIUM – redefining high-end!




| | | |
| --- | --- | --- |
| | | |
| | the signal masters world tour | |
| | | |
| | | |
| --- | --- | --- |
| | Our start in the trade fair year 2020 | |

For KLOTZ AIS, the trade fair year 2020 starts as usual with the two top events, the ISE in Amsterdam and the Hamburg Open.




 




The broadcast & AV technology fair Hamburg Open will take place at the end of January (22 - 23). Shortly thereafter, from 11 - 14 February, ISE will be held in Amsterdam, THE trade fair show for AV system integration. Of course, we will be present at both events once again this year.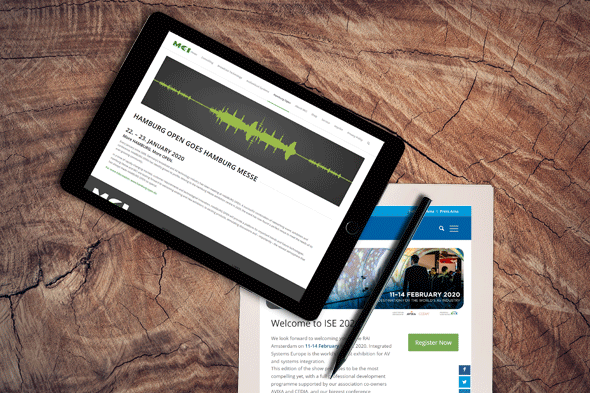 We look forward to welcoming our customers and business partners at our booth. Our team will be happy to answer any questions you may have about loss-free signal transmission for a wide range of applications.




 




We would be pleased to present our latest developments in the field of fiber optic, RamCAT network or premade cables.




 




We are looking forward to your visit.



Managing Director:


Dieter Klotz




 


Commercial Register:


Munich District Court HRB 112612


International VAT ID:


DE811998658




 


Responsible for content (§ 55 Para. 2 RStV):


Peter Klotz (address as above)

KLOTZ AIS GmbH


Johann-Sebastian-Bach-Str. 36




85591 Vaterstetten




Tel.: +49 (0) 8106 308-0




Fax: +49 (0) 8106 308-101


Mail: info@klotz-ais. com
Web: ww w. klotz-ais. com


 


»

data protection
To unsubscribe from our newsletter please click

HERE