Dear readers,




 




Our engineers are developing new and innovative products at an absolutely breathtaking pace.




But we don't want to fill up our newsletter with nothing but new products.




There's so much more to say!




 




The name of KLOTZ has been synonymous with state-of-the-art cable solutions of all kinds for 40 years. Our locations are expanding, and recent years have seen huge investments in infrastructure.




 




Our technical support team often receives questions about the various categories of network cables. Here's our mini-guide.




 




Our GA27FLEX is a coaxial cable that performs outstandingly under even the most difficult conditions. Exactly what you've come to expect from KLOTZ.




 




Our MI sector raises the bar for high-end instrument cables significantly higher with the new TITANIUM walnut.



KLOTZ manufactory, Vilchband:




custom cable solutions "made in germany"

Over the past 40 years, the engineers and developers at KLOTZ have constantly pushed the envelope in terms of inventiveness, innovation and thirst for action. The company's portfolio has long moved on from the idea of "just cables", and now develops systems and solutions for sports stadiums, mega-hotels and even cruise ships.




 




New standards are continually being introduced in data transmission. KLOTZ has always been in the forefront of this field, and will remain so in the future. KLOTZ is synonymous with supreme quality in audio and video transmission solutions, and has built a worldwide reputation on this hallmark quality.




 




As growth became necessary in recent years, the company was in the fortunate position of being able to expand its Vilchband production location. The facility was upgraded to take in future-facing technologies and other aspects –including legal requirements concerning areas such as energy efficiency, as well as ergonomic and people-centred workplace design.




| | | |
| --- | --- | --- |
| | But the most important asset that KLOTZ has is its people. They have collected a huge store of knowledge and expertise over the years. Our goal is to preserve and expand that knowledge. At KLOTZ, MADE IN GERMANY is part of our everyday routine – and we aim to keep it that way for the next 40 years. | |
| | | |
| --- | --- | --- |
| | TITANIUM walnut: high end acoustic guitar cable | |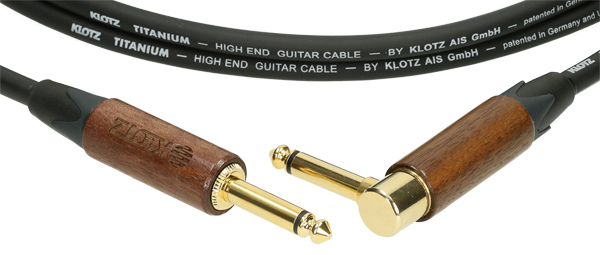 Already the reference cable in the high-end instrument and microphone cable category, KLOTZ TITANIUM is now available in a further advanced model.




 




Brushing aside all the voodoo talk around cables, the TITANIUM Series has established a firm position on the market as the ultimate high-end cable. Cables from the series have been inspiring musicians and sound engineers on stage and in the studio for ten years.




 




Now sound gourmets have a further reason to add KLOTZ TITANIUM Cables to their menu. The latest model is a feast of elegance, with laser-engraved connector sleeves crafted from walnut wood with matt silk finish and with gold contacts. It is now available from all good specialist retailers.




 




Handmade in Germany is a seal of excellence that stands for carefully selected materials, fine craftsmanship and strict quality control to the highest standards. The TITANIUM's revolutionary design is naturally patent-protected, allowing KLOTZ to grant a lifetime warranty (after registration) on this exceptional cable.




 




In addition to sound quality, mechanical properties are also important criteria.




In these high-end cables, subsonic noise, microphonics, static and motion noise are virtually eliminated while signals are transmitted with extraordinary clarity and fidelity. The TITANIUM delivers convincing performance in every respect.



| | | |
| --- | --- | --- |
| | Artists including Steven Wilson, Uli Jon Roth, Nathan East and Melody Gardot are already dedicated fans. When will you join the KLOTZ Family? | |

| | | |
| --- | --- | --- |
| | Antenna cables: RG8-X vs. KLOTZ GA27FLEX | |

RG8X cables, colloquially known as "antenna cables", are the classic form of coax cable. The RG in their name stands for "Radio Guide", a long-obsolete US military standard which applied for many years. But this cable type is still very much alive in the MI sector, including for wireless mics. And that's hardly surprising, given that one of the global players in the field of radio links is based in the USA.




 




Of course, KLOTZ also has this cable type in its product range under the model number RG058. But when it comes to wireless signal transmission, technology – and KLOTZ – have advanced a good way.




 




The GA27FLEX is a coax cable that naturally offers the specs you would expect, like the obligatory 50-ohm characteristic impedance. The difference is the 7-strand conductor for extreme flexibility. The conductor is enclosed in a layer of low-attenuation dielectric medium of physically foamed polyethylene, while dual copper foil and braided copper shielding provides extra-reliable protection against interference. The outer diameter of 7.2mm is also a signal of high quality, ensuring signals are transmitted reflection-free and with ultra-low attenuation.




 




Wireless or radio mics are usually used on large-scale stages, where very long distances between antenna and receiver may need to be covered. These environments may be full of potential sources of interference, such as lighting systems, transformers and mobile devices. Reliability and signal fidelity are therefore of paramount importance.



The KLOTZ GA27FLEX is the ideal choice for meeting the challenges of the future – no need to struggle with the standards of the past!




 




The GA27FLEX is naturally also available in premade models (C-27X-T…), and of course we also supply the right 50-ohm BNC connectors (BN5A273CPT) plus crimping tool.



| | | |
| --- | --- | --- |
| | | |
| | KLOTZ Tech Blog - network categories | |
| | | |
 




Herding cats – or, the eternal problem of CATegorizing

Network cables, their various protocols and categories are an ongoing topic for the KLOTZ Tech Support team.




 




It's important to know that bulk cables and connectors are classified separately under the global ISO/IEC 11801 standard.




This often causes confusion in practice; it means that if you see "Category 7" printed on a Category 6 patch cable, it refers to the bulk cable but not the connectors!




 




More important than the category of bulk cable used is the whole package – the combination of precisely matched top-quality components, which is essential for reaching full potential over the transmission distance. A great example of how this works is provided by our RCB... cable series from our long-standing successful RamCAT series. 100m in length, they are made up with meticulously matched components and pass all Channel Class E measurements (Cat.6) with flying colours!




 




Detailed information and the graphic for the Channel Class E measurement can be found in the KLOTZ Tech Blog: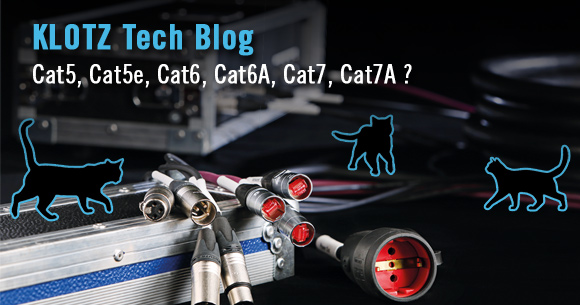 Managing Director:


Dieter Klotz




 


Commercial Register:


Munich District Court HRB 112612


International VAT ID:


DE811998658




 


Responsible for content (§ 55 Para. 2 RStV):


Peter Klotz (address as above)

KLOTZ AIS GmbH


Johann-Sebastian-Bach-Str. 36




85591 Vaterstetten




Tel.: +49 (0) 8106 308-0




Fax: +49 (0) 8106 308-101


Mail: info@klotz-ais. com
Web: ww w. klotz-ais. com


 




 


»

web


»

contact


»

data protection
To unsubscribe from our newsletter please click

HERE