Dear readers,




 




Welcome to the KLOTZ musician & studio update for March!




As always, this issue is packed with the latest news and topics to grab your attention.




 




Today we have a new KLOTZ the signal chains video where Ron "Bumblefoot" Thal, guitar mastermind with Sons of Apollo, shows off his instrument and rig in depth and reveals the tricks he uses to get the perfect sound from his Vigier Custom Doubleneck.




 




YouTube guitar wizard Paul Davids has also namechecked KLOTZ in his video "10 things every guitarist needs/wants". He's listed the KLOTZ TITANIUM with silentPLUG connector as his Number 1! And of course there are lots more tips for gear to make musicians' lives easier on stage and in the studio and rehearsal room.




 




This time our DX10 DI box goes to guitar wizard Jon Gomm. His views on our pocket-size box of tricks is the latest in a slew of great reviews from the previous months. Check it out for yourselves!




 




We hope you enjoy this month's Newsletter and have as much fun reading it as we had putting it together!




 


The KLOTZ Team

| | | |
| --- | --- | --- |
| | Sons of Apollo: the signal chains | |

Ron "Bumblefoot" Thal is currently touring Europe with the supergroup Sons of Apollo. The name is enough to make music buffs' mouths water – after all, the band members are some of the finest musicians on the scene today.




 




Like Bumblefoot himself, whose impressive CV includes stints with Guns 'n' Roses and Art of Anarchy. In this video he takes us through his unusual and very individual setup, where KLOTZ TITANIUM cables have a special role to play.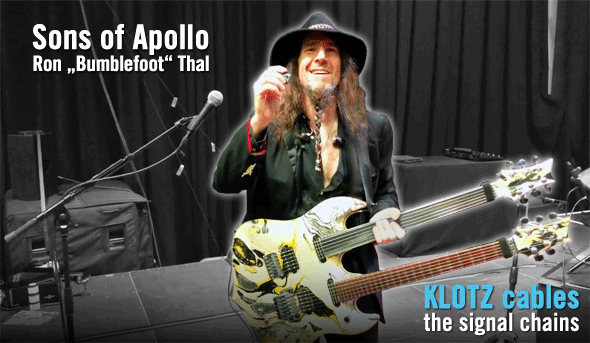 On tour and in the studio, guitarist Ron "Bumblefoot" Thal as welll as keyboardist Derek Sherinian from Sons Of Apollo rely on KLOTZ TITANIUM supreme guitar and microphone cables for absolute state-of-the-art sound that's virtually free from microphonics. To be seen and especially heard on the current "MMXX" Tour.




 




 



TIR-PSP


supreme guitar cable


jack 2p. 6,35 mm




gold, silentPLUG, angled




 




» go to shop




 




TI-M


supreme StarQuad microphone cable


2x XLR 3p. F/M




gold




 




» go to shop




 




| | | |
| --- | --- | --- |
| | Paul Davids Top 10: gear you want! | |

With 1.5 million subscribers, Paul Davids is one of YouTube's most successful guitarists.




And we're delighted that his "10 Things Every Guitarist Needs / Wants" includes a KLOTZ TITANIUM cable with silentPLUG.




 




There's lots more great gear in there too, but when we saw what he'd chosen as his Number 1, we couldn't stop grinning. Thanks, Paul Davids!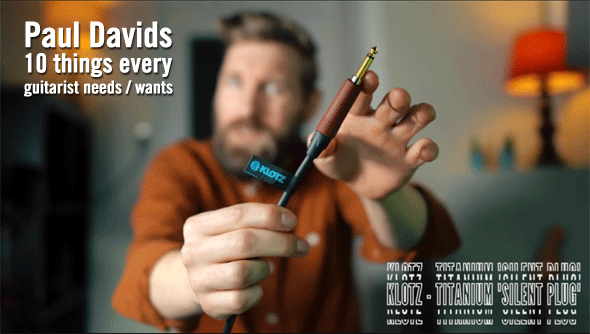 A KLOTZ TITANIUM supreme guitar cable with silentPLUG is what you need?




So have a look at our online shop für further information on this outstanding interconnect.




 




TITANIUM - infinite tone, perfect silence



TI-PSP


supreme guitar cable


jack 2p. 6,35 mm




gold, silentPLUG




 




» go to shop




 




| | | |
| --- | --- | --- |
| | Jon Gomm and the KLOTZ DX10 passive di-box | |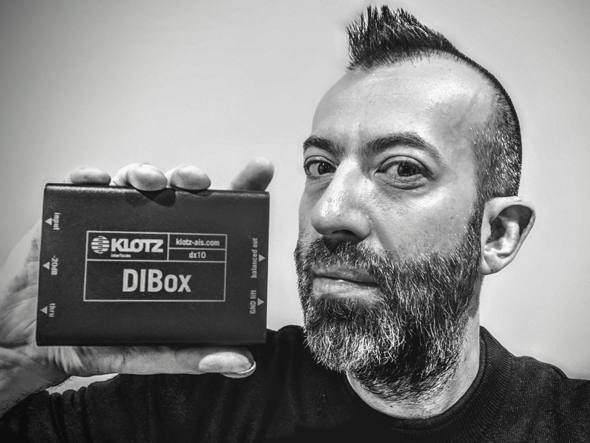 Jon Gomm is the man of the hour where percussive finger style for acoustic guitar is concerned. All you hear is Jon Gomm and his guitar – even if it sounds like at least three musicians are playing. His virtuosity is the perfect pair for KLOTZ cables. We brought Jon a KLOTZ DX10 di-box to see if it would meet his high demands for perfect signal transmission.




 




"The Klotz DX10 gives me the true, unaltered sound of my guitar from a sub-rattling kick to the highest harmonics, it performs in total silence, and unless you happen to own a nuclear warhead I think you'll find it's indestructible."




 


- Jon Gomm -


 


In just a few weeks you will have the chance to see Jon Gomm live. From April this year his tour starts with gigs in Germany, UK, Poland and Canada: jongomm.com/shows

DX10


passive DI-box


unbalanced in-/ output:




6,3 mm jack socket




balanced output:




XLR 3p. male




 




» go to shop




 



| | | |
| --- | --- | --- |
| | KIKKG: pro instrument cable with metal jack by KLOTZ | |

The KLOTZ KIK instrument cable is an exceptionally reliable cable at a budget price that delivers premium sound quality. It is now available with the KLOTZ in-house KCPM jack connector. As always, the KLOTZ engineers focused on stellar sound quality and ruggedness when they perfected their design.




 




24-carat gold-plated contacts ensure superb signal fidelity, while the high-precision workmanship and outstanding strain relief element deliver stability and breakproof durability. The ergonomic lines of the die-cast housing feature unique handling properties, with grooves and recessed grips.




 




Now fit for the future, the updated KIK instrument cable will continue to delight musicians seeking clear, high-fidelity transmission sound for their instruments. KIKKG.. pro instrument cables are available in straight and angled versions in black, red and blue:



KIKKGPPSW


pro instrument cable


jack 2p., 6.35 mm, gold,




by KLOTZ




straight - straight




 




» go to shop




 




KIKKGPRSW


pro instrument cable


jack 2p., 6.35 mm, gold,




by KLOTZ




straight - angled




 




» go to shop




 




KIKKGRRSW


pro instrument cable


jack 2p., 6.35 mm, gold,




by KLOTZ




angled - angled




 




» go to shop




 



Managing Director:


Dieter Klotz




 


Commercial Register:


Munich District Court HRB 112612


International VAT ID:


DE811998658




 


Responsible for content (§ 55 Para. 2 RStV):


Peter Klotz (address as above)

KLOTZ AIS GmbH


Johann-Sebastian-Bach-Str. 36




85591 Vaterstetten




Tel.: +49 (0) 8106 308-0




Fax: +49 (0) 8106 308-101


Mail: info@klotz-ais. com
Web: ww w. klotz-ais. com


 


»

data protection
To unsubscribe from our newsletter please click

HERE