Dear readers,




 




Ho ho ho! The sound of sleigh bells rings in our ears and Christmas is everywhere!




As the year draws to a close, we'd like to express our warmest thanks to all our customers and artists for their trust and support. The New Year will be full of news about KLOTZ, so stay tuned. This Newsletter is to inform you about the latest news from our artists, but also to wish you all a very happy Christmas and a great start to the New Year!




 




KLOTZ is on company holiday from 23.12.2019.




We will be there for you again from 7.1.2020.




 


We hope you enjoy reading our newsletter
The KLOTZ Team


| | | |
| --- | --- | --- |
| | | |
| | welcome to the #KLOTZfamily | |
| | | |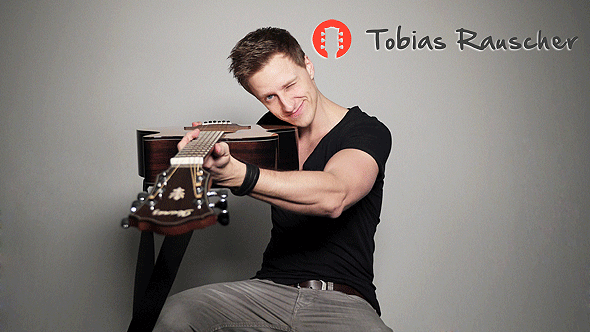 | | | |
| --- | --- | --- |
| | KLOTZ artist - Tobias Rauscher | |

Tobias Rauscher first picked up a electric guitar at the age of 14. He joined a series of bands before deciding to focus solely on acoustic guitar in 2010.




 




Influenced and inspired by greats such as Tommy Emmanuel and Andy McKee, Tobias developed a personal style best described as "modern percussive fingerstyle", in which he combines melodies with percussive elements in compositions that scale the heights of sophisticated technique.



Tobias Rauscher




welcome to the #KLOTZfamily




Tobias Rauscher




relies on the TITANIUM supreme guitar cable



Tobias releases his songs in media channels including YouTube, where he has his own channel with over 300,000 subscribers and a total of over 40 million clicks.




 




In 2015 he set up his "Guitar Academy" and passes on his expertise to ambitious guitarists. His book, "Fingerstyle Guitar Secrets", was published in 2017. Tobias Rauscher is a well-known presence on the international live and workshop scene.




 


"I'm super happy with my KLOTZ cables. Perfect signal, top quality and 100% reliable."


- Tobias Rauscher -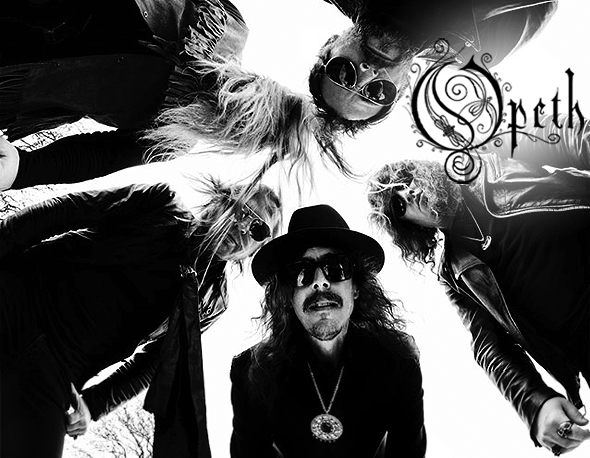 | | | |
| --- | --- | --- |
| | Opeth - the signal chains | |

In these videos, Fredrik Akesson and Martin Mendez from Opeth present their pedal boards. The guitarist's board used by Akesson is naturally more complex, with an array of loops and a whole slew of pedals. Bassist Mendez has simpler needs; with just two basic sounds, he has a far smaller "minefield" on the floor in front of him. And yet the two boards have plenty in common.




 




Both exclusively use KLOTZ cables from the TITANIUM Series for all connections. This series is the flagship of the Bavarian company where guitar cables are concerned –reliable, durable and absolutely free from cable noise. All listeners hear is the sound made by the artist, the instrument, the effects and the amplifier – not the cable. Fredrik and Martin are not the only fans of TITANIUM cables; their band colleagues all agree. KLOTZ is delighted that the whole of Opeth has moved to using these Made in Germany cables.



"The perfect Prog Metal Board?"




check out Fredrik's rig




"Less is more feat. Martin Mendez"




Martin shows his rig of the current tour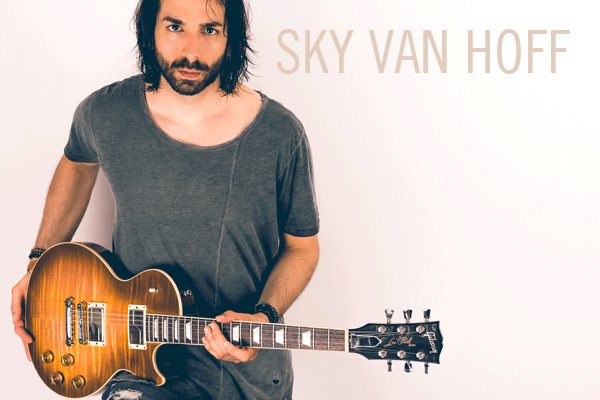 | | | |
| --- | --- | --- |
| | KLOTZ artist - Sky van Hoff | |

| | | |
| --- | --- | --- |
| | Sky van Hoff is a guitarist, songwriter, engineer and producer, with a reference list packed with names including Eskimo Callboy, Kreator and Caliban – to name but a few. He collects gold records by the dozen, as well as nominations for the most prestigious awards in the music industry. The latest release by Rammstein confirms his work as a producer, and he is currently touring with the band as monitor mixer. Sky van Hoff swears by KLOTZ products for his live and studio work. | |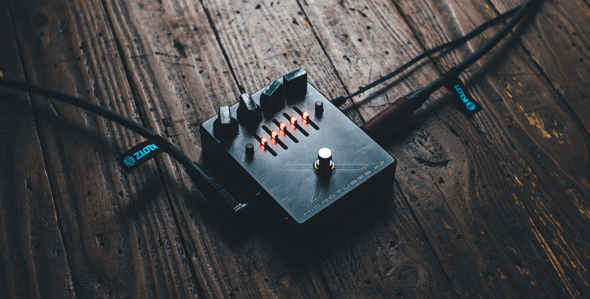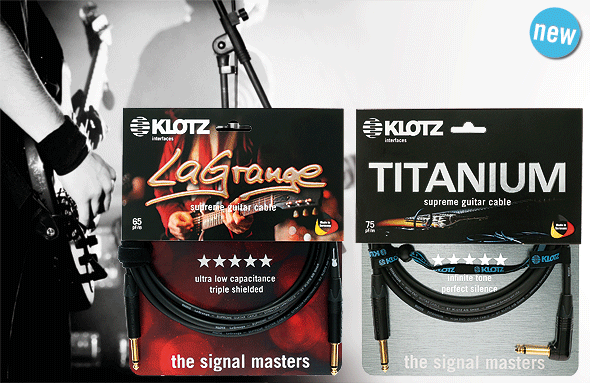 | | | |
| --- | --- | --- |
| | Packaging update for KLOTZ instrument- and microphone cables | |

The new packaging introduced by KLOTZ fulfils several purposes at once. It reflects the ethical values set forth by the company in its code of conduct, using no metal or plastic. The packaging is produced and printed in Europe, sending out clear signals about sustainability and responsible use of resources. In addition, the new design makes it even easier for customers to choose the perfect product for their needs.




 




The packaging clearly states the classification of the cable. Instrument cables are rated using a series of stars, with all cables rated three stars and over "Made in Germany". This star rating applies to the Professional Series, including our best-selling KIK and the Pro Artist cable family. Our High-End Guitar Cable category, like the Joe Bonamassa Signature cables and the RockMaster Series, has four stars. Supreme cables – that's the TITANIUM and LaGrange series – have five stars. These cables are widely regarded as state of the art for their peerless transmission characteristics and reliability. Entry-level cables like the GREYHOUND series have one or two stars. In microphone cables, M1 stands for the Professional Series, M2 for High End and M5 for Supreme.



| | | |
| --- | --- | --- |
| | cable construction and QR code on the rear side | |

| | | |
| --- | --- | --- |
| | classification diagram on the rear side | |
| | | |
| --- | --- | --- |
| | But our customers don't need to simply take our word for it. Each pack features a diagram showing the category of the individual products in the various segments and giving details such as the sound, the cable structure and much more. Connoisseurs will appreciate the inclusion of pF / m values, and the QR code allows customers to check out more information online. | |


SoundlightUp review of the KLOTZ Di-Box:




"The DX10 is at least equal to the "reference" models in the market."

| | | |
| --- | --- | --- |
| | French event technology magazine soundlightup has published an in-depth test of our DX 10 DI box. The testers even dismantled the box and scrutinized every single detail of the electronics inside. A host of measurements, diagrams and pictures confirm the outstanding quality of this compact piece of kit – so modest in appearance, but so essential. | |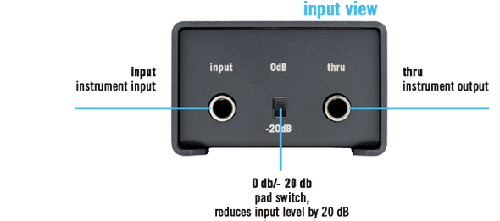 | | | |
| --- | --- | --- |
| | Musicians make their judgements based on sound, but technicians, PA experts and electronics freaks will welcome the specialist jargon and the facts and figures. The sound, the craftsmanship and durability, and the exceptional value for money of this passive DI box were all singled out for high praise. | |

Managing Director:


Dieter Klotz




 


Commercial Register:


Munich District Court HRB 112612


International VAT ID:


DE811998658




 


Responsible for content (§ 55 Para. 2 RStV):


Peter Klotz (address as above)

KLOTZ AIS GmbH


Johann-Sebastian-Bach-Str. 36




85591 Vaterstetten




Tel.: +49 (0) 8106 308-0




Fax: +49 (0) 8106 308-101


Mail: info@klotz-ais. com
Web: ww w. klotz-ais. com


 


»

data protection
To unsubscribe from our newsletter please click

HERE