Dear readers,




 




A happy and successful New Year to all our Newsletter readers from everyone here at KLOTZ! May the power of great sound always be with you! The year starts for us with a slew of news, updates and preparations for the first trade shows of 2020.




 




This year we will continue to stay true to our promise of always supplying the best possible products at the best possible price. With this in mind, we hope you enjoy reading this Newsletter!




 


The KLOTZ Team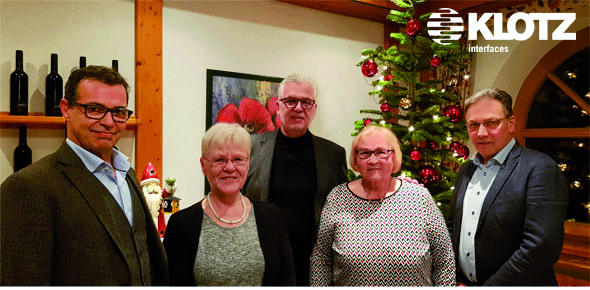 In order to ensure we can supply our Made in Germany products at competitive prices, we have to count every penny. Not only in obvious areas like materials management, sales and so on, but also in what are known as "soft facts".




 




At KLOTZ, treating our people with respect is of paramount importance. Retaining their loyalty – and their expertise – can result in major savings for our company. Take apprenticeships and training, for example. Where staff turnover is high, training has to cover the same ground over and over again for the new intake. For this as well as many other reasons, we're very proud to say that many of our employees have been loyal to us for years – or in some cases, even decades.




 




At our Vilchband production centre in picturesque Franconia, the 2019 Christmas party gave a great send-off into retirement for two ladies who had been with KLOTZ AIS for thirty years each – since 1989! – most recently in the Multicore department.




 




Our warmest thanks and appreciation go to Ms Derr and Ms Menig for their services. We're very proud and happy to have people of this calibre in our team!



| | | |
| --- | --- | --- |
| | Packaging update for KLOTZ instrument- and microphone cables | |

| | | |
| --- | --- | --- |
| | The new packaging introduced by KLOTZ fulfils several purposes at once. It reflects the ethical values set forth by the company in its code of conduct, using no metal or plastic and naturally complying with the RoHS guideline. The packaging is produced and printed in Europe, sending out clear signals about sustainability and responsible use of resources. In addition, the new design makes it even easier for customers to choose the perfect product for their needs. | |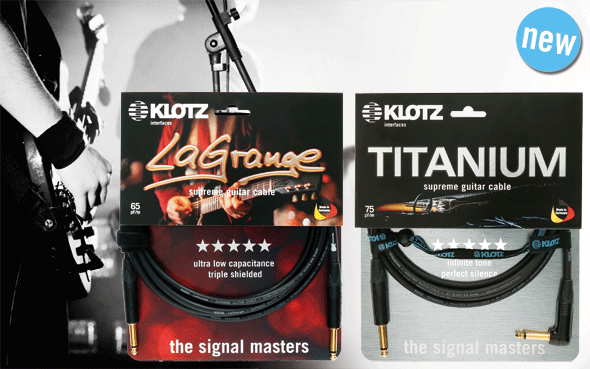 The packaging clearly states the classification of the cable. Instrument cables are rated using a series of stars, with all cables rated three stars and over "Made in Germany". This star rating applies to the Professional Series, including our best-selling KIK and the Pro Artist cable family. Our High-End Guitar Cable category, like the Joe Bonamassa Signature cables and the RockMaster Series, has four stars. Supreme cables – that's the Titanium and LaGrange series – have five stars. These cables are widely regarded as state of the art for their peerless transmission characteristics and reliability. Entry-level cables like the Greyhound series have one or two stars.




 




In microphone cables, M1 stands for the Professional Series, M2 for High End and M5 for Supreme. But our customers don't need to simply take our word for it. Each pack features a diagram showing the category of the individual products in the various segments and giving details such as the sound, the cable structure and much more. Connoisseurs will appreciate the inclusion of pF / m values, and the QR code allows customers to check out more information online.




 




The new packaging will be introduced in the first quarter of 2020.




The designs are patent protected.



| | | |
| --- | --- | --- |
| | cable construction an QR code on the rear | |

| | | |
| --- | --- | --- |
| | classification diagram on the rear | |

| | | |
| --- | --- | --- |
| | New analogue and digital loom cables | |

Using individual cables can quickly become confusing, even with small numbers of channels. Now the new ultra-flexible KLOTZ multichannel studio connection cables put an end to the misery of cable chaos! Keep everything in view with the SCD and SCA Loom Series.




The individual fanout elements are enclosed in an extra-strong self-extinguishing woven sleeve, so that the looms are suitable for use through a wide range of operating temperatures (-70 °C to +150 °C).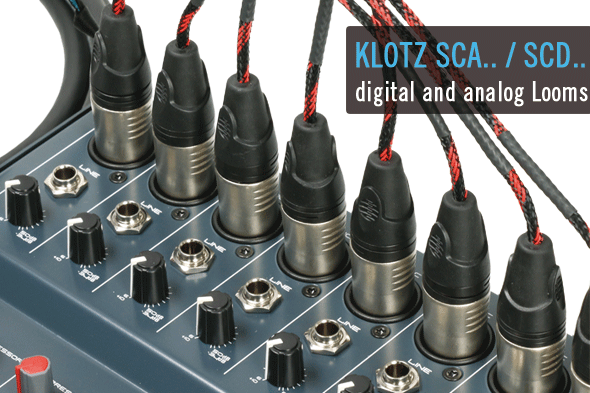 They are finished with high-quality laser-engraved KLOTZ XLR connectors (XLR 3p. F/M).




The transparent shrink sleeve on both ends of the outer jacket allows the cable to be labelled as required.




 




The analogue SCA loom family is made up with the popular KLOTZ PolyWIRE studio multicore, with generous 0.22mm² conductor cross-section and extra-low capacitance of 85 pF/M. The ideal basis for superb sound!




 




KLOTZ' ultra-flexible OmniWIRE cable, with spiral shield and supple PVC jacket, is used for the digital looms in the SCD series and ensures they are perfect for mobile applications. The cable is AES/EBU compliant and is thus suitable for digital signals.




 




The SCA and SCD loom families are available in lengths of 3m, 6m and 9m.




| | | |
| --- | --- | --- |
| | DMX lighting cables with KLOTZ XLR connector | |

At KLOTZ, we work tirelessly to showcase the benefits of our "Made in Germany" label – but also to keep our products affordable. Connectors are a great example of how we do it.




 




Take our DMX cables. These cables are specifically designed for lighting control uses and available in a range of models, with different jacket materials, shields, or specs for digital applications. They can be purchased as ready-mades in various lengths or as bulk cable.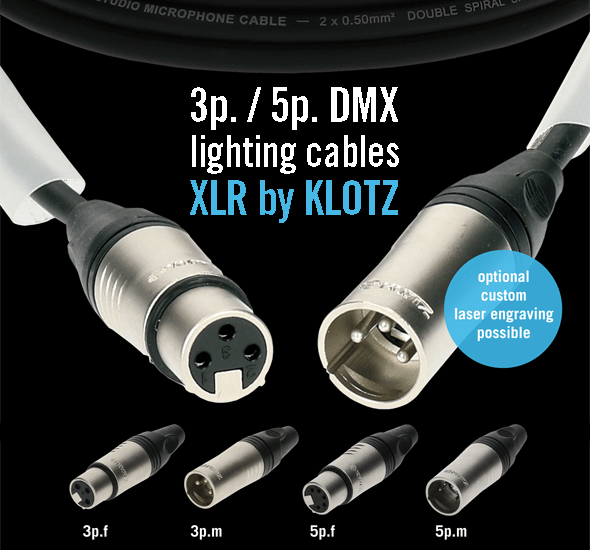 | | | |
| --- | --- | --- |
| | Our 3- or 5-pin XLR connectors are developed in-house by our engineers and manufactured by our experienced, highly trained KLOTZ production team. They have recessed grips and grooves for easy handling and feature flat areas for laser-engraving, so that rental companies can add their company logo, numbering or other text. Customers all over the world sing the praises of the cable's mechanical properties – not forgetting its great sound, of course! | |
DMX3K




OT206YS: 0,22 mm², PVC




2x KLOTZ XLR 3p. F/M, silver




digital & analog




 




»go tor shop




 




DMX5DK1S




OT206YS: 0,22 mm², PVC




2x KLOTZ XLR 5p. F/M, silver




digital




 




» go to shop




 



| | | |
| --- | --- | --- |
| | "Made in Germany" high quality at an affordable price – that's KLOTZ DMX! | |

| | | |
| --- | --- | --- |
| | Update for KLOTZ' top-selling M1 microphone cable | |

We're well-known for producing cables – but also the connectors that go along with them. And they've proved so popular that we aim to add them to more and more of our products. M1 Series cables already feature our KLOTZ in-house designed XLR connectors.




 




Now the M1FS1K and M1MS1K cables will likewise be available with our own balanced jack connectors. Contacts are precision-machined, nickel-plated and extra-rugged. The extra-slim 14mm shaft has grooves and recessed grips for easy handling. An ultra-durable 2-component sleeve completes the connector, which can be found on the new cable models from prolight & sound 2020.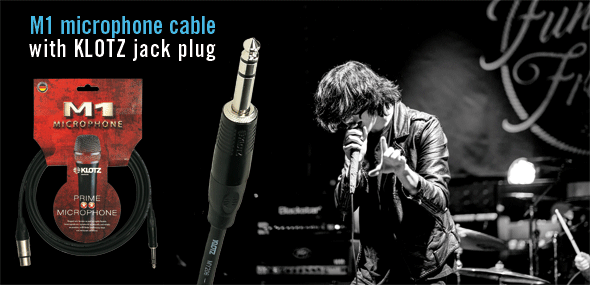 Managing Director:


Dieter Klotz




 


Commercial Register:


Munich District Court HRB 112612


International VAT ID:


DE811998658




 


Responsible for content (§ 55 Para. 2 RStV):


Peter Klotz (address as above)

KLOTZ AIS GmbH


Johann-Sebastian-Bach-Str. 36




85591 Vaterstetten




Tel.: +49 (0) 8106 308-0




Fax: +49 (0) 8106 308-101


Mail: info@klotz-ais. com
Web: ww w. klotz-ais. com


 


»

data protection
To unsubscribe from our newsletter please click

HERE