Dear readers,




 




The "merry month of May" comes round every year– but this year it's very different, as we are all experiencing in our personal lives and environments. Although the first relaxations to the lockdown are now being introduced, the coronavirus is likely to be around for quite some time.




 




But at KLOTZ, we haven't been idle. We've developed "SENTRY", a product that will attract the interest of the production and events industry – and is also well worth closer investigation by shop owners, security companies and similar.




 




Deliveries of the new 2020 versions of our "made in germany" cables to retailers started some time ago. To accompany them, we now present more details of the new quality categories for our popular microphone, speaker and instrument cables.




 




The #KLOTZfamily is thriving and growing all the time. KLOTZ "made in germany" cables are rapidly becoming the products of choice for a constant stream of new artists, working in all kinds of genres and with all kinds of musical requirements. And it's easy to see why: top quality and reliability, coupled with unparalleled signal fidelity, are the standout characteristics of KLOTZ cables.




 


The KLOTZ AIS Team

| | | |
| --- | --- | --- |
| | KLOTZ communications: SENTRY - the personal distance projector | |

With a team of engineers, designers and in close cooperation with KLOTZ AIS GmbH, KLOTZ communications developed SENTRY - the personal distance projector which can be easily attached to clothes and shows the safe distance on the floor in front of the person.




 




The aim is to remind individuals that we still have to be careful and should avoid any risk but we also intended to offer a tool allowing companies to remind their staff and their service agents to maintain safety distances at all time.




 




Now we offer exhibitions, museums, sports and other events locations an instrument allowing them to control the maintaining of safety distances of visitors and therefor to re-open their facilities step by step.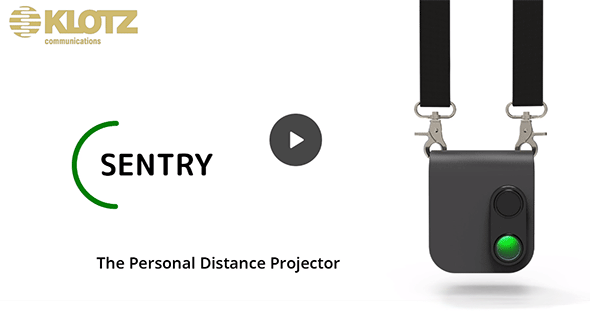 | | | |
| --- | --- | --- |
| | New design for KLOTZ 'made in germany' cables | |

One or two of you may already have noticed that we've changed our packaging design. In step, we've also adopted a new nomenclature that reflects the various categories of our cable products.




 


For customers, the new names and star ratings provide at-a-glance guidance for choosing the right product for their needs. "

Supreme

" has five stars, "

High End

" has four, and "

Professional

" has three. These three categories are manufactured exclusively in Germany and proudly bear the Made in Germany slogan as both claim and commitment.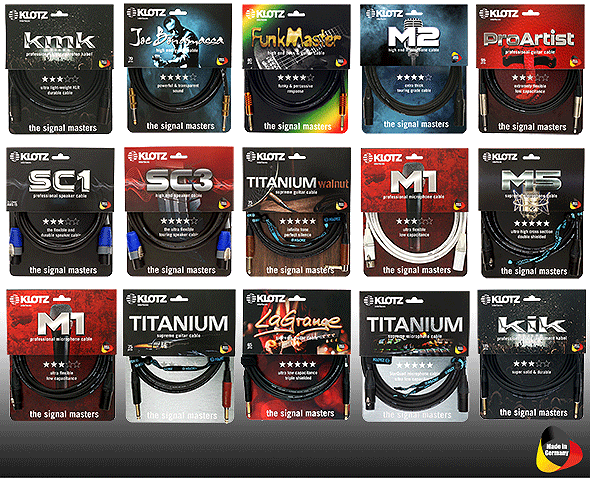 The outstanding quality of our products is hugely appreciated by artists, so that KLOTZ cables can be found on stages and in studios all over the world. Among the convinced users are Uli Jon Roth, Melody Gardot, Steven Wilson, Alexandr Misko, Thomas Lang and many more.




 


When will you join the

#KLOTZfamily

?

| | | |
| --- | --- | --- |
| | Gus G: melodic metal icon | |

Gus G wielded his ax for well-known acts such as Ozzy Osbourne, Arch Enemy, Doro and many more. With his band Firewind he has been releasing albums regularly since 2002.




 




On his solo CDs he impressively demonstrates that he is one of the best metal guitarists of our time. Diverse influences and musical passion make him an exceptional artist.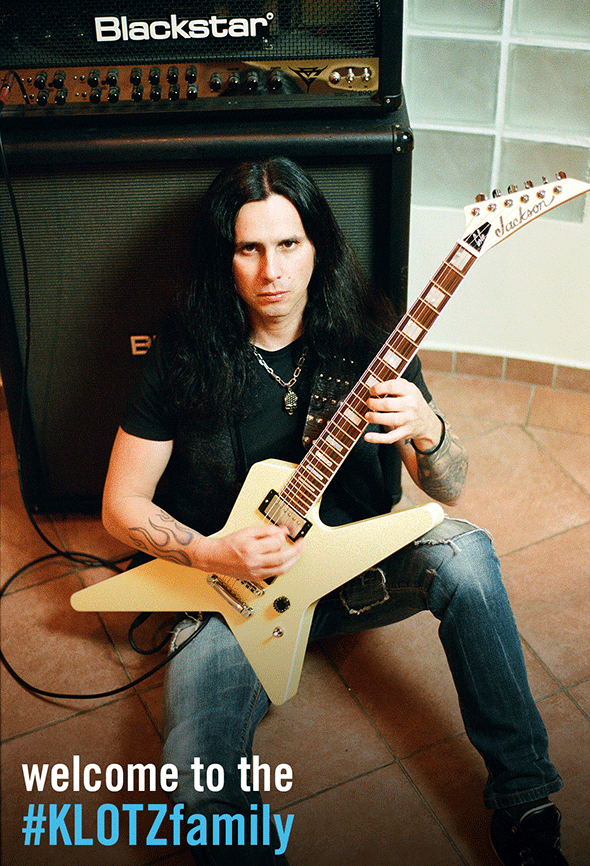 | | | |
| --- | --- | --- |
| | Now he rocks the stage with KLOTZ cables Made in Germany. Live and in the studio, Gus G relies on KLOTZ TITANIUM supreme guitar cables for infinite tone and perfect silence. | |
TI-PSP


supreme guitar cable


jack 2p. 6,35 mm




gold, silentPLUG




 




» go to shop




 



Managing Director:


Dieter Klotz




 


Commercial Register:


Munich District Court HRB 112612


International VAT ID:


DE811998658




 


Responsible for content (§ 55 Para. 2 RStV):


Peter Klotz (address as above)

KLOTZ AIS GmbH


Johann-Sebastian-Bach-Str. 36




85591 Vaterstetten




Tel.: +49 (0) 8106 308-0




Fax: +49 (0) 8106 308-101


Mail: info@klotz-ais. com
Web: ww w. klotz-ais. com


 


»

data protection
To unsubscribe from our newsletter please click

HERE