Dear readers,




 




Spring has sprung!




Everything's growing and flourishing –and our product portfolio is no exception.




 




The new LPA5FNS Adapter Cable and LSV2844FMPAC TrussLINK Box were designed especially for bridging the gap from PA-COM to speakOn in L-Acoustics products.




 




The CLAES3PTRUSS – a CATLink stage box with significantly enhanced functionality – is another brand-new addition. Its paired parallel configurations of XLR connectors can be used as both inputs and outputs.




 




The HA-HA-AOCW active optical cable complies with HDMI 2.0 specification and is thus ideal for video transmission at 18 Gbps 4:4:4. Sound is naturally also transmitted as Dolby Digital or DTS.




 




Of course we attended Prolight + Sound in Frankfurt/Main once again in 2019 – KLOTZ's 40th anniversary year. As always, our proven products were naturally given a warm welcome, but our individual ProAVM solutions and our new products were also received with enormous interest and positive feedback.




 


We hope you enjoy reading our newsletter
The KLOTZ AIS team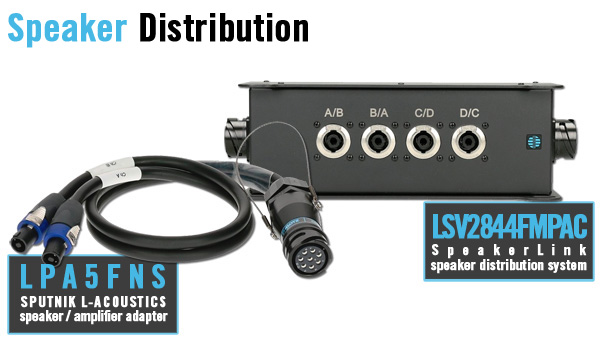 | | | |
| --- | --- | --- |
| | L-Acoustics Adapter Cable and SpeakerLink Rigg Box | |

The new LPA5FNS Adapter Cable and LSV2844FMPAC TrussLink Box were designed especially for bridging the gap from PA-COM to speakOn in L-Acoustics products. Because the L-Acoustics LA4X system amplifier only has speakON outputs but many users wanted to use their existing PA-COM cables, we developed the LPA5FNS SPUTNIK Adapter.




 




The adapter converts the four speaker channels of the LA4X to an 8x PA-COM speaker multicore. The LPAFNS offers the full range of features of the SPUTNIK Series –with its solid speaker cable with 4mm² cross-section, strain relief loop and quality connector, the LPA5FNS is ready for the road.




| | | |
| --- | --- | --- |
| | Fast, neat cabling of stage speakers is child's play with the LSV2844FMPAC Rig Box. The box converts the incoming signals from PA-COM connectors for four (A, B, C, D) or two (A/B, C/D) NLT4MP connectors. The wiring configuration is printed on the box, making the stage crew's job a whole lot easier. | |


| | | |
| --- | --- | --- |
| | 4 channel CATLink in TrussLink housing: CLAES3PTRUSS | |

The CLAES3PTRUSS combines the best of two series: Our CATLink and the TrussLINK series!




 




A network cable has four twisted pairs with 100 Ohm characteristic impedance each. Wouldn't it be incredibly practical to be able to send four audio signals (analog or AES/EBU) or even four DMX signals via this cable? This is now possible with the new KLOTZ CATLink products.




 




The TrussLINK stage boxes are always there when professionalism is required. The XLR connectors (XLR 3p. F/M) connected in parallel in pairs can be used as input and output. This guarantees maximum flexibility and speed in setup and dismantling for professional stage use. The robust aluminium housing is equipped with non-slip rubber feet, the lettering is applied by laser engraving.




The CLAES3PTRUSS is the perfect solution when signals have to be sent from the stage to the FOH or sub-mixer and back again. Thanks to the four eyelets on the housing and the M10 thread for using a Manfrotto Superclamp, it is also suitable for suspension in the traverse.




 




The internal wiring is "digital ready", i.e. designed for a characteristic impedance of 110 Ohm - important when used as a DMX or AES/EBU box. The TrussLINK can be used as a small sub-stage box or even as a complete multicore system.




| | | |
| --- | --- | --- |
| | HDMI 2.0 active optical cable | |

| | | |
| --- | --- | --- |
| | An Oscar-winning masterpiece is the most fun in maximum picture and sound quality. The HDMI cable HA-HA-AOCW.. from KLOTZ transmits pictures in HD and sound in Dolby Digital or DTS easily and reliably - even in 3D or in the new 4K x 2K or quadruple full HD picture standard. | |
| | | |
| --- | --- | --- |
| | Totally interference-free thanks to active glass fibre hybrid cable technology (AOC), which is also thinner, lighter and more flexible than classic HDMI copper cables! | |
| | | |
| --- | --- | --- |
| | | |
| | The signal masters world tour | |
| | | |
| | | |
| --- | --- | --- |
| | Review 40 Jahre KLOTZ @ Prolight + Sound Frankfurt | |

Once again, we can look back on a highly successful Prolight + Sound trade show in Frankfurt am Main for 2019, the year we are celebrating our 40th anniversary.




 


The crowds of visitors to our stand were particularly interested in our speaker cable solutions – including our products for L-Acoustics systems, which now include LSV2844FMPAC SpeakerLink and LPA5FNS Amp Adapter. Solutions that you won't find "off the peg" so easily!

| | | |
| --- | --- | --- |
| | Our fibre optic cable solutions were also greeted with plenty of positive feedback – particularly cables with our SmartBeam QUAD expanded beam connectors, which feature our hallmark KLOTZ quality for loops and associated low attenuation. | |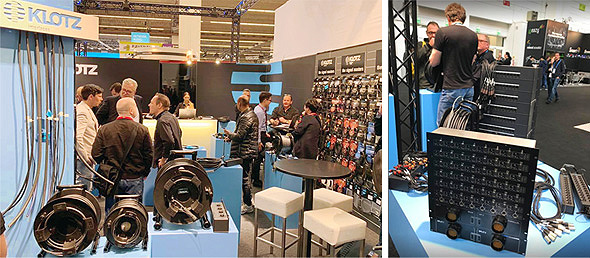 | | | |
| --- | --- | --- |
| | Further perennial favourites at our stand were our multicore system solutions plus of course a range of further products from our KLOTZ AIS custom shop. And last but not least, our Vintage Stage wallowed in nostalgic memories and offered the chance to admire a few of our old treasures. | |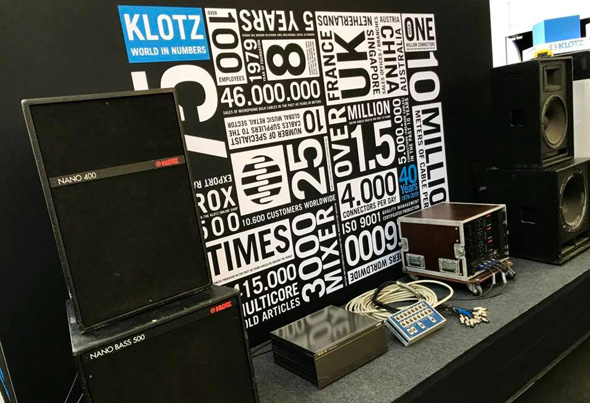 Geschäftsführer:


Dieter Klotz




 


Registergericht:


Amtsgericht München


Registernummer:


HRB 112612




 


USt-IdNr. gemäß §27a UStG:


DE811998658




 


Inhaltlich Verantwortlicher gemäß §55 Abs. 2 RStV:


Peter Klotz (Anschrift wie oben)

KLOTZ AIS GmbH


Johann-Sebastian-Bach-Str. 36




85591 Vaterstetten




Tel.: +49 (0) 8106 308-0




Fax: +49 (0) 8106 308-101


eMail: info@klotz-ais. com
Internet: ww w. klotz-ais. com


 




 




 


»

Kontakt


»

Webseite


»

Datenschutz
Um sich von unserem Newsletter abzumelden, klicken Sie bitte

HIER