Dear readers,




 




The new Construction Products Regulation (CPR), which came into effect in July 2017, governs fixed installation cables and wiring in buildings. We have obtained certification for the relevant cables and wiring from our product range.




 




Small, yet beautifully effective – that's our CP6AET Laptop Adapter, bridging the gap from etherCON to RJ45 in just half a metre! Network sockets on normal laptops are only designed for RJ45 connectors, not etherCON. The CP6AET supplies the missing link between the two connector types.




 




Five or six cats – which category is right? Herding cats – or the eternal problem of CATegorizing – is the bugbear of many a technician. Confused? Check out our Tech Blog for all the answers, with a post on classifying network cables and connectors that's informative and enlightening. Our tried-and-tested RamCAT cables play a starring role!




 




Furthermore, our new, passive DI Box DX10 with a completely newly developed transformer is being launched.



The long wait is over, and our new DX10 DI Box is finally here! At the Namm Show and the Musikmesse in Frankfurt we presented the new DX10, now it is finally available.




 




The DX10 naturally has an array of the finest features anyone could wish for in such an essential live and studio performance assistant. We poured over 30 years of experience from our KLOTZ DI Boxes into the new model. The ultra-rugged housing was redesigned, and only the finest components were good enough.



The heart of any DI box is the transformer. The transformer in the DX10 is an all-new in-house development that brings together all our expertise and experience. It is made from mu-metal, a soft magnetic alloy with outstanding magnetic permeability. In practice, that means incredible sound quality and clean, clear sound – no more fuzz or distortion!




 




The DX10 marks the launch of a whole new generation of KLOTZ DI boxes.




| | | |
| --- | --- | --- |
| | NEW: CAT.6a laptop adapter | |

| | | |
| --- | --- | --- |
| | We now have several products in our range that have been developed as a result of very specific customer requests. The CP6AETFRJM is also one of them. RJ45 and etherCON - confusingly similar, but not the same. It is said there has already been some confusion. An etherCON housing contains an RJ45 connector and therefore cannot be plugged into a "normal" network socket, as found on laptops. | |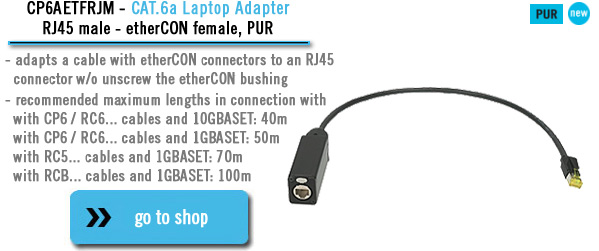 | | | |
| --- | --- | --- |
| | This is exactly why we have created the laptop adapter CP6AETFRJM. It adapts a cable with etherCON connectors - nowadays common practice in the ProAVM environment - to an RJ45 connector without having to remove the etherCON grommet. The bulk cable used is our proven C7P06P, a CAT7 patch cable with PUR outer sheath in the frequency range up to 600 MHz. | |
| | | |
| --- | --- | --- |
| | Herding cats – or, the eternal problem of CATegorizing | |

Network cables, their various protocols and categories are an ongoing topic for our Tech Support team.




It's important to know that bulk cables and connectors are classified separately under the global ISO/IEC 11801 standard.




This often causes confusion in practice; it means that if you see "Category 7" printed on a Category 6 patch cable, it refers to the bulk cable but not the connectors!




More important than the category of bulk cable used is the whole package – the combination of precisely matched top-quality components, which is essential for reaching full potential over the transmission distance. A great example of how this works is provided by our RCB... cable series from our long-standing successful RamCAT series. 100m in length, they are made up with meticulously matched components and pass all Channel Class E measurements (Cat.6) with flying colours!




 


Detailed information and the graphic for the Channel Class E measurement can be found here.


| | | |
| --- | --- | --- |
| | Cables with CPR certification | |

The new European Construction Products Regulation (EU) No. 305/2011 came into effect in July 2017. It classifies construction products with regard to their reaction to fire, with the purpose of improving safety in homes and buildings.




 




In the case of cables for permanent use in buildings (particularly control, high-voltage and communication cables), it is implemented by the standards EN 50575, EN 50399 and EN 13501-6. As buildings often include fixed installation of audio, video and data cables (especially halogen-free and flame-retardant FRNC cables), we obtained certification for a range of our cables and wires in fire classes Dca and Eca. For details, see the data sheets for the requisite products, or search our website for CPR lists, which are constantly updated with the addition of certified Dca and Eca products.




 


For detailed information on cables that comply with the Construction Products Regulation, visit the website of the German Cable Makers' Association (ZVEI).

Managing Director:


Dieter Klotz




 


Commercial Register:


Munich District Court HRB 112612


International VAT ID:


DE811998658




 


Responsible for content (§ 55 Para. 2 RStV):


Peter Klotz (address as above)

KLOTZ AIS GmbH


Johann-Sebastian-Bach-Str. 36




85591 Vaterstetten




Tel.: +49 (0) 8106 308-0




Fax: +49 (0) 8106 308-101


Mail: info@klotz-ais. com
Web: ww w. klotz-ais. com


 




 


»

web


»

contact


»

data protection
To unsubscribe from our newsletter please click

HERE