Dear readers,




 




Welcome to this autumnal newsletter!




 




Here at KLOTZ, our 40th anniversary is no reason for us to slow down and lean back. Although we've collected a whole pile of laurels over the decades, resting on them simply isn't in our company's DNA. Our engineers are working hard on developing a stream of innovative new products and finding ways of further improving products that are already successful.




And there's more to read in this newsletter – we also present a review of a successful trade show and introduce a new member of our team.




 


We hope you enjoy reading our newsletter
The KLOTZ Team

| | | |
| --- | --- | --- |
| | | |
| | the signal masters world tour | |
| | | |
| | | |
| --- | --- | --- |
| | Guitar Summit 2019 review | |

| | | |
| --- | --- | --- |
| | The 2019 Guitar Summit in Mannheim did its name justice as the highlight of Europe's guitar-focused trade show year. The 2019 event built on the success of previous years and significantly surpassed them, attracting almost 9000 visitors over three days. | |

| | | |
| --- | --- | --- |
| | KLOTZ was naturally among the 470-plus exhibitors. The stand was visited by crowds of interested guitarists and bassists seeking information or the chance to talk shop, or just to take part in our competition. The prize draw for Anniversary Sets of a DX-10 DI box and cable selection was very popular and the prizes were quickly handed to their new owners. The Summit featured a stellar line-up of celebrities, with international stars of the guitar scene – including many of our KLOTZ artists – giving workshops, master classes and concerts. These side events were likewise extremely popular; many were already booked out far in advance. | |

| | | |
| --- | --- | --- |
| | KLOTZ would like to thank the organizers of specialist music magazine Gitarre & Bass for the outstanding trade show. We've already booked our stand for 2021 and look forward to meeting plenty of musicians once again – and winning them over to our quality products. | |
| | | |
| --- | --- | --- |
| | New KLOTZ speaker cables and SPUTNIK adapters for d&b systems | |

KLOTZ AIS presents new loudspeaker cables and SPUTNIK adapters with PA-COM® and Neutrik speakON connectors for d&b systems. The cables are made up using KLOTZ LSC2440YS speaker multicore cable with 4.0 mm² conductor cross-section. Ultra-fine wires (226 x 0.15 mm) are used to ensure the cable offers extreme flexibility and fatigue resistance, even at temperatures up to -40°C. Braided aramid fibres are integrated into the outer jacket for maximum tensile strength.




 


The LP244XY3C is a rugged 24x speaker multicore cable and features a PA-COM® 25p female ringless connector on one end and the male version with ring on the other for quick, easy extension of the multicore.


 


The KLOTZ SACT24MN06M offers a SPUTNIK speaker adapter with PA-COM® 25p. male connector and 6x fully configured Neutrik speakON connectors. The SPUTNIK Adapter is compatible with d&b SL Series line arrays and has fanout lengths that are ideal for speakON breakouts.


 


The SACT24MN12M SPUTNIK Speaker Adapter is designed specifically for line arrays in the d&b T Series. It features a PA-COM® 25p. male connector and 12x Neutrik speakON connectors.


 




The speaker multicore cable and SPUTNIK Adapters can naturally be used with other d&b-compatible PA systems.




HDMI premium high speed cable:




max. UHD/4K/60p video and sound quality

KLOTZ AOC HDMI Link smoothly transmits even high-resolution UHD/4K video formats and sound in Dolby Digital or DTS without restrictions – including 3D, Full HD, Blu-ray, HDR and uncompressed high-res image formats like Apple ProRes and Blackmagic RAW.




 




AOC (active optical cable) Fiber Optic Hybrid Technology:




Unlike copper cables, AOC HDMI Link can smoothly transmit high-res 4:4:4 HDMI signals in UHD/4K at 60 frames/sec over distances of up to 100 meters. The necessary converters are built into the connector – no additional external power supply needed. In addition, AOC HDMI Link is thinner, lighter and more flexible than classic HDMI copper cables.



| | | |
| --- | --- | --- |
| | AOC HDMI Link is available with 2x HDMI-A connectors (FOAH) or as HDMI-A to HDMI-AD (FOAHD) with one detachable adapter. KLOTZ supplies AOC HDMI Link in lengths of 50m and over as an armoured model on a rugged cable drum with protective connector caps (FOAHW). | |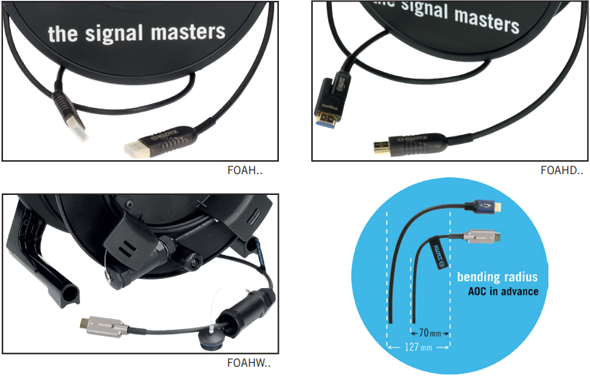 | | | |
| --- | --- | --- |
| | KLOTZ SmartBeam once again with improved attenuation specs | |

KLOTZ optical fibre products are produced to the strictest quality standards – and these apply particularly to the KLOTZ SmartBeam connectors featuring expanded beam technology.




 


Unlike optical fibre cables with PC (physical contact), KLOTZ SmartBeam is highly impervious to contamination. This makes it the ideal choice for challenging outdoor and live transmission situations. The SmartBeam has an IP67 rating offering protection against dust and water ingress and can cope with over 3000 mating cycles. It's so quick and easy to clean – just use water and it's ready for use again.


 


KLOTZ has developed a new lens coating and new optical fibre polishing processes which have further reduced the SmartBeam's attenuation specs to less than 0.5 dB (!) per connector. Compare this to the attenuation of a contamination-sensitive PC connector at approx. 0.4 dB.


 


This means that despite its expanded beam technology, the KLOTZ SmartBeam achieves low attenuation levels that are virtually identical to those of a FO PC connector – but offers vastly superior stability and reliability.

Meet the latest addition to our team!




 




Kai Reiter has been Pro AVM Product Manager at KLOTZ here in Vaterstetten since 1 September 2019.




 




Kai Reiter grew up in the beautiful city of Munich. After graduating as a sound engineer in 1994, he spent ten years at the head of a recording studio for music and film soundtracks.




 




With over twenty years in the Pro AV business, Kai Reiter has a wealth of experience as a product specialist and product manager for distribution of high-calibre brands in the studio, broadcast and video sectors.




 




In the Product Management Pro AVM team at KLOTZ AIS, he will act as interface between our customers and our sales and product development departments.




 




Kai Reiter also offers in-depth expertise in optical fibre technology, and will provide specialist support for the KLOTZ Fiber department.






 




Kai Reiter




Product Management




ProAVM



Managing Director:


Dieter Klotz




 


Commercial Register:


Munich District Court HRB 112612


International VAT ID:


DE811998658




 


Responsible for content (§ 55 Para. 2 RStV):


Peter Klotz (address as above)

KLOTZ AIS GmbH


Johann-Sebastian-Bach-Str. 36




85591 Vaterstetten




Tel.: +49 (0) 8106 308-0




Fax: +49 (0) 8106 308-101


Mail: info@klotz-ais. com
Web: ww w. klotz-ais. com


 




 


»

web


»

contact


»

data protection
To unsubscribe from our newsletter please click

HERE