Dear readers,




 




M1, our entry-level microphone cable, has become one of our all-time classic products.




 




As of 1 September 2018, we've given it an update –from then onwards, the M1 will be available exclusively with black Neutrik connectors. All the M1's other features will stay exactly the same: top-quality selected materials, crush resistance and ultra-low capacitance. Even the price is unchanged! The M1FM1N is available in black, red and blue.




 




Life on the road pulls no punches, and any materials used for touring products have to be rugged. With this in mind, we gave our LSC840XYM Multicore Speaker Cable an end-to-end revamp. Its extra-thick outer jacket can handle temperatures of up to -40° Celsius, and what's inside is designed especially for the tough life of touring equipment. The perfect choice for pros!




 


We hope you enjoy reading our newsletter
The KLOTZ ais team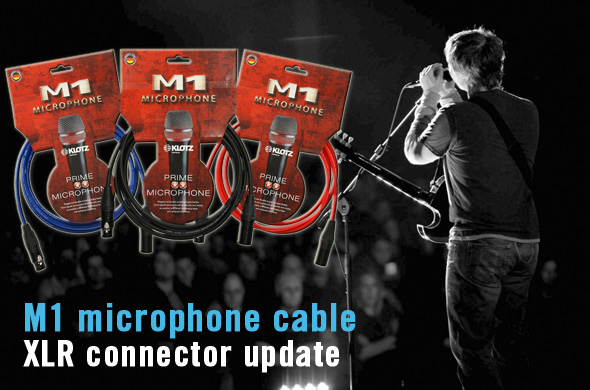 | | | |
| --- | --- | --- |
| | M1 microphone cable with black Neutrik XLR | |

Our bestseller M1FM1N was updated on September 1st 2018 and will be delivered exclusively with black Neutrik connectors. The article numbers and prices remain the same, only the plug colour changes.




 


New pictures can be found here: M1FM1N product pictures download


 


The previous nickel-coloured version will be available from September exclusively to bulk buyers in batches of 100 pieces and more per length and as a frame order or pallet deal. The special conditions are available exclusively from our sales staff.


 




| | | |
| --- | --- | --- |
| | Multicore speaker cable eXtreme LSC840XYM | |

| | | |
| --- | --- | --- |
| | KLOTZ has completely redesigned its eXtreme LSC840XYM and LSC840XYS Multicore Speaker Cables as ideal solutions for connecting mobile multiway and line array systems. | |
The two cable models have plenty in common; both share outer jackets with extra resilience to low temperatures, short twisting lengths of their conductors and extra-fine stranded wires. The difference is in the external diameters, which were tailored for PA-COM® and Neutrik speakON connectors respectively. What's inside is naturally also custom-developed for the needs of live performance and touring on the road and withstands temperatures down to -40 °C !




 




For more information about the design, compatibility and applications of the LSC840XYM, visit our Online Shop.



Managing Director:


Dieter Klotz




 


Commercial Register:


Munich District Court HRB 112612


International VAT ID:


DE811998658




 


Responsible for content (§ 55 Para. 2 RStV):


Peter Klotz (address as above)

KLOTZ AIS GmbH


Johann-Sebastian-Bach-Str. 36




85591 Vaterstetten




Tel.: +49 (0) 8106 308-0




Fax: +49 (0) 8106 308-101


Mail: info@klotz-ais. com
Web: ww w. klotz-ais. com


 




 


»

web


»

contact


»

data protection
To unsubscribe from our newsletter please click

HERE